Complete Invisalign® Care in Vancouver
If you're after a healthy, straight smile, then Invisalign® Vancouver could be an ideal option for you. Having straight teeth helps improve confidence, overall teeth structure and well-being!
Invisalign® Vancouver is the ideal option for a wide variety of common dental issues, from spacing to jaw alignment. Invisalign® treatment and technology might be the answer to problems you thought could only be solved with braces.
Inspire Dental is proud to provide an exciting alternative to traditional procedures such as dental braces. For a more comfortable and less invasive corrective process, consider Invisalign®. Read on to learn more about the procedure, the Invisalign® cost in Vancouver, and how we will support you on your journey to a better smile.
Invisalign® Could Be The Answer
There are plenty of benefits to Invisalign® treatment. People often prefer to use Invisalign® over braces due to the many advantages that Invisalign® can provide.
Invisalign® is nearly invisible compared to traditional braces, where the wires and metal brackets can be seen.
Invisalign® aligners are made with SmartTrack® flexible material, making them super easy to put on and remove, unlike braces, which are fixed.
With regular braces, you usually have to visit your orthodontist every 3 to 4 weeks. With Invisalign®, visits are usually only required every 8 to 10 weeks.
Since Invisalign® aligners are removable, you can still floss and brush your teeth as normal. Braces may make it difficult for you to clean in between metal brackets, which can result in plaque accumulation and poor oral hygiene.
What Is Invisalign®?
Inspire Dental Group provides an invisible alternative to traditional braces. Invisalign® is invisible, comfortable, and removable. It is suitable for adults and teenagers alike. 3D computer imaging of your teeth allows you to see all the planned movements. You will be provided with an animation of your treatment and the approximate duration of your treatment. Patients who have already endured traditional orthodontics often find relief through this system. Invisalign® is often chosen by adults who are concerned about straightening their teeth later in life.
How Does It Work?
Invisalign® uses a series of custom-made, clear aligner trays to create the desired results. These aligners are made of plastic and are worn directly on your teeth. You wear a new set of aligners about every two weeks until your treatment is done. As you wear a new set of trays, your teeth will gradually shift into the desired place. With 3D computer imaging, we are able to plan the movement of your teeth and provide an estimation of how long your treatment will take.
Advantages of Invisalign®
Invisible and removable
No food restrictions
Easy to clean
Comfortable to wear
Does not irritate the mouth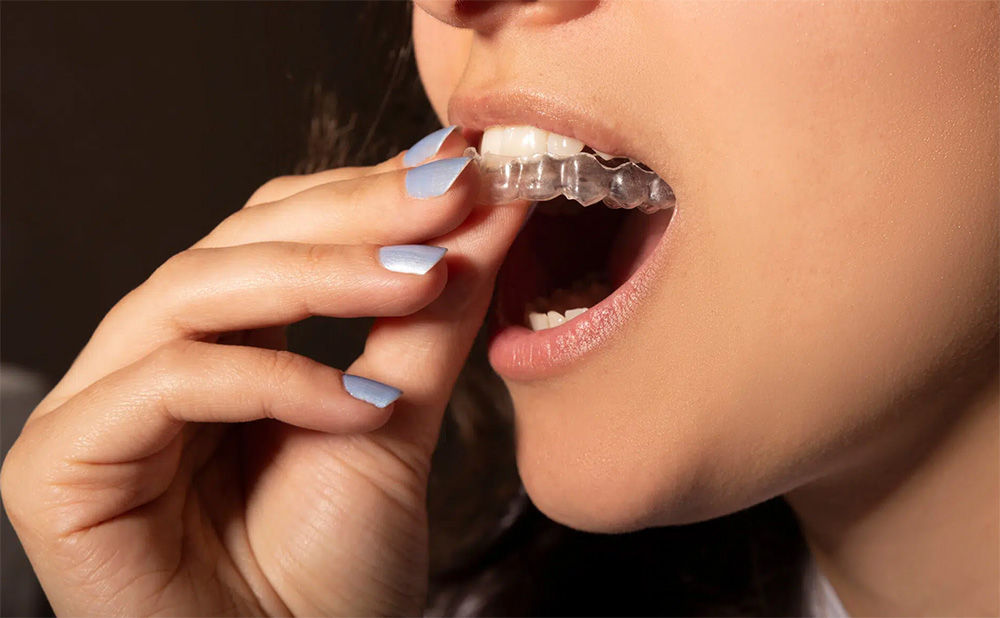 Invisalign® Helps With…
Overcrowded teeth
Gaps between teeth
Overbites, underbites, and crossbites
And more!
The Invisalign® Vancouver Process
Your First Consultation
At the first consultation visit, we take a 3D scan of your teeth using our state-of-the-art iTero scanner and discuss your treatment options with you. This is also part of the process with other services we provide, such as dental implants, tooth extraction, and more.
The consultation will usually take around 30 to 60 minutes, and you may be asked about your dental and medical history.
Progress Appointments
Once the plan for your Invisalign® Vancouver treatment is put in place, we will check in to ensure all is going as it should. You will have regular progress appointments, usually once every 8 to 10 weeks, to make sure that your treatment is going as planned
Progress appointments will usually take around 30 minutes or less
After Your Appointment
After each appointment, we will provide any necessary care instructions.
You will need to remove your Invisalign® aligners for eating, brushing and flossing, but other than that, the important thing is that you use your aligners consistently.