Are You Considering Dental Implants in Vancouver?
Do you want to restore the look and function of your teeth with dental implants?
Everyone deserves a beautiful smile. Thanks to our dental implants in Vancouver, there is no need to settle for anything less. If one or more of your teeth are missing, there are several options you can choose from to replace them.
Dental implants are an alternative to bridges, partials, and dentures. Our dental implants provide a foundation for your replacement teeth to attach to, and they look, feel, and function just like natural teeth.
The Inspire Dental Vancouver office provides the most comfortable and secure dental implants in Vancouver and surrounding areas. We pride ourselves on results and use only the highest quality equipment and materials. You can also rest assured that we offer the best compatibility possible for your dental implants, as our proven success rates will demonstrate.
What Are Dental Implants?
A dental implant is an artificial titanium root that is put into the jawbone. After the implant has been positioned, a replacement tooth is attached to the implant. The implant's main function is to act as a root to hold the replacement teeth in place.
Advantages of Dental Implants
Natural appearance and function
Long term reliability
Avoids disrupting healthy teeth
Easily maintained
Stable, secure, and effective
As strong as natural teeth
The Procedure
An examination of your mouth will be conducted, and x-rays of your head, jaw, and teeth will be taken to figure out which dental implant fits best for you.
Stage 1: A dental implant is inserted into your jawbone under the gums. The gum tissue is then stitched back into place. As your gums heal, the implant will bond with the bone and attach to your gums. The healing process may take three to six months.
Stage 2: After your gum heals, a small post will be attached to the implant. The post's function is to connect the replacement tooth to the implant.
Stage 3: A replacement tooth is attached to the post.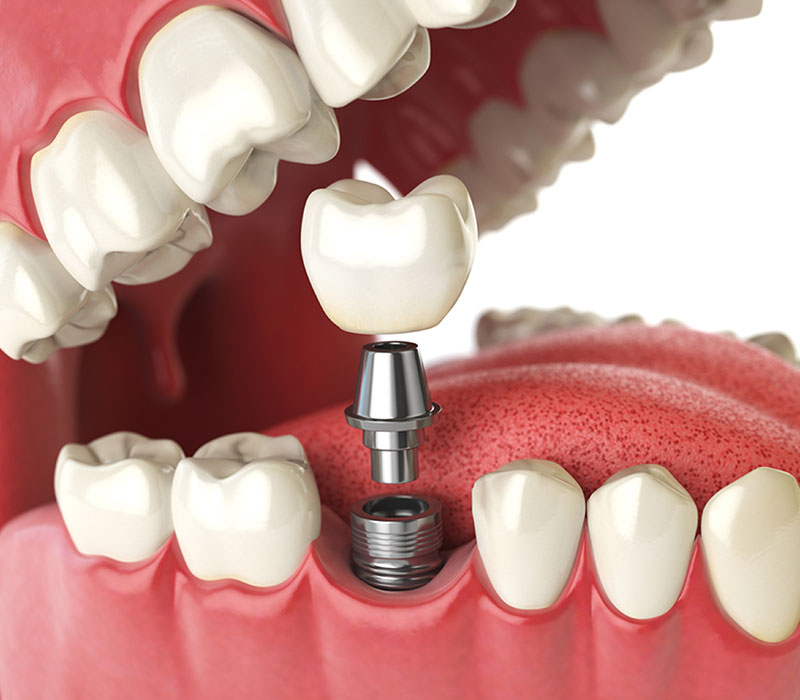 Common Questions About Dental Implants Near You
Am I a good candidate for dental implants?
If you are in good health, have healthy gums, and have enough bone in your jaw to hold an implant, you may qualify for a dental implant. A thorough examination of your mouth and a review of your medical and dental history is required. Our implants offer a secure solution for every age and every situation.
What type of anesthesia is used?
Local anesthesia, with or without sedation.
What can I expect after getting a dental implant?
Our dental Implants Vancouver service requires the same care and maintenance as your natural teeth. Follow-up visits will be required to monitor your implant, gums, and teeth to make sure they are healthy and working properly. Regular check-ups are important to make sure that your bite is correct and your implants are not loose.