Ready to get the smile you've always wanted? Let's do it!
A cosmetic smile makeover is a big decision to make. If you're planning a makeover to your teeth, or a whole new smile, you need to partner with a professional who you trust completely. The investment can be significant. Getting cosmetic dental treatments is a totally different experience to getting essential or emergency dental treatment. It's probably affected you in many ways and been something you've wanted for a long time. It's important to do your research to make the best and most informed decision.
Types of cosmetic dentistry near you
It's best to meet with your dentist  to discuss your concerns and the best solutions for your specific case. Cosmetic dentistry in Vancouver can involve a number of different treatments including:
Teeth whitening
Replacing amalgam fillings with white fillings
Teeth straightening with Invisalign or orthodontic treatments
Crowns and veneers
Implants and bridges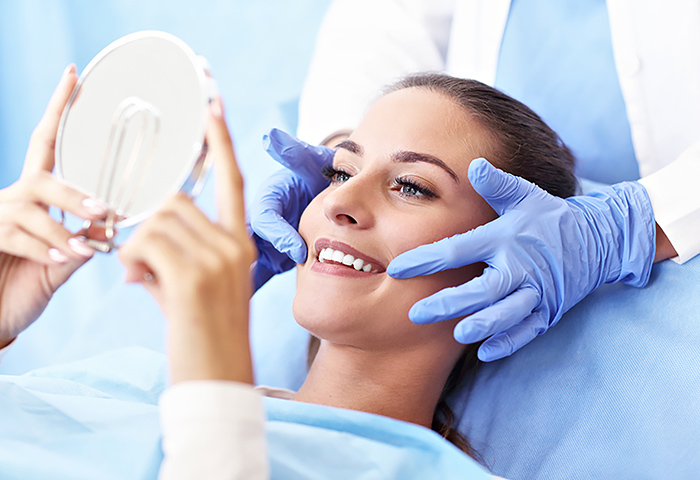 Benefits of visiting a cosmetic dentist
A cosmetic dental makeover can enhance your teeth, smile and overall appearance. But did you know that visiting a cosmetic dentist can do more than that? Cosmetic dentistry in Vancouver can help improve your self-confidence and self-esteem. There are a number of reasons to consider a cosmetic makeover, including early dental development, poor oral health, and gum disease. These issues can result in problems that affect the appearance of your teeth and smile, and have an impact on the function of your teeth, mouth and jaw.
Injuries and accidents also play a role. You may have damaged teeth, broken teeth, or missing teeth, including issues stemming from sports injuries. This may impact the surrounding teeth. You may have been living with a compromised smile for many years before deciding to visit a cosmetic dentist in Vancouver and considering the options available for you.
Get prepared
When you book at one of our dental practices for a cosmetic dentistry in Vancouver, you most likely have a lot of questions and want to know the process involved. That's understandable. It's useful to think ahead about what your dentist or specialist will need to know to guide you on your journey. Generally, your cosmetic dentist or specialist will ask you about your medical history and then thoroughly examine your mouth, teeth, gums, jaw, tongue, throat, sinuses, ears, nose and neck. You may also need an x-ray.
Your dentist will ask you some questions, such as:
What are hoping to achieve?
What are you happy about?
What are you unhappy about?
What's your biggest concern?
How has this issue affected you?
Think about your answers to these questions before your cosmetic dentistry appointment. Being prepared can speed up the process.