Many people get nervous about going to the dentist; you're not alone! And don't worry, we don't take it personally.
Your dental anxiety could come from a fear of dentists from past experiences, or you have a significant procedure coming up, or maybe you're just worried about how your teeth are doing.
We want you to feel as comfortable as possible, and this is part of the reason why Inspire Dental Group focuses on the sights, scents and smells you experience when you walk into one of our offices. Talk to us about how you're feeling, and let us know if it's more than just the usual few nerves for you. We will do everything we can to make you comfortable.
Symptoms
General symptoms include:
A general feeling of nervousness
Physical reactions when visiting a dentist, such as nausea or shortness of breath
Severe phobias
Children can also experience dental anxiety. Physical reactions and emotional distress can make trying to see the dentist with a child quite challenging.
Coping with dental anxiety
Being anxious about visiting the dentist is common and nothing to be ashamed of. We recommend talking about how you're feeling with your dentist. Being prepared and understanding what will happen at an appointment can go a long way to helping your nerves. Please read through our list of procedures on our website to get an idea of what to expect when you visit for your treatment.
We recommend regular visits to your dentist and hygienist as that can help you feel more comfortable. If you wait to visit until you are in pain or have serious dental problems, it can make your anxiety worse. If your dental anxiety is particularly severe, sedation can be an option. Talk to us, and we can discuss the options with you.
Causes
Past experience at the dentist is a major cause of dental anxiety. Lots of us even say we 'hate' the dentist. Childhood memories are often where it start if you had poor experiences as a kid. Built-up fear can make it hard for some people to relax during an appointment. Dentistry has changed a lot over the years; current treatments, procedures, equipment and techniques are now relatively painless and fast.
Dental anxiety in children can come more from an irrational fear or just general worries about the experience ahead. Young children haven't been to the dentist enough to build up an experience-based concerns, but they can develop an intense fear about what will happen if you, too are nervous about going to the dentist, what the surroundings will be like and what the dentist will be like.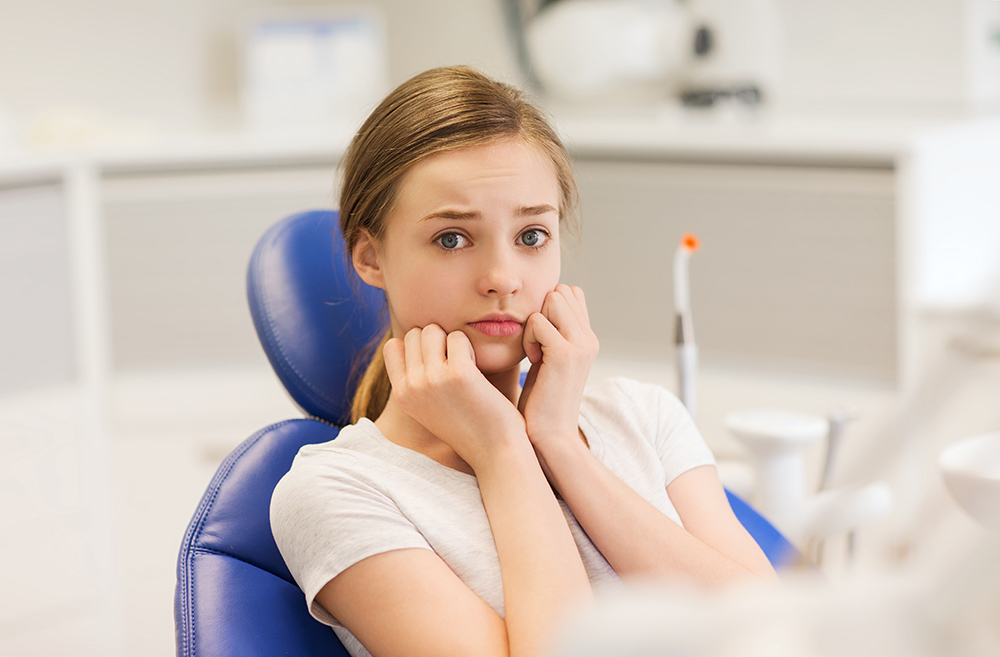 Get Prepared
When you book at one of our Inspire Dental Group locations, and you experience dental anxiety, you want to be reassured about what's ahead. We get that. It's useful to think about what your dentist will need to know to diagnose and treat you. That way, your appointment will go as smoothly and quickly as possible.
Generally, your dentist will ask you about your medical history and then thoroughly examine your mouth, teeth, gums, jaw, tongue, throat, sinuses, ears, nose and neck. You may also need an x-ray, depending on what your dentist suspects might be the cause of your problem.
Your dentist will ask you some questions about your teeth and any pain you may have, such as:
Are you experiencing any pain?
How severe is the pain?
Where do you feel the pain?
What is your normal dental routine?
What is your diet like?
Think about your answers to these questions before your appointment. Being prepared can speed up the diagnosis.